The 2130 Excess Flow Valves are designed for use in liquid, gas or vapor service to stop the flow in the event of a sudden flow change. The 2130 have male NPT connections on the inlet side and female NPT connections on the outlet side. These valves offer excellent flow rates and can be used in many different applications. Internal components are also available in ceramic. Wrench flats are included.
See tables below for dimensions of common sizes.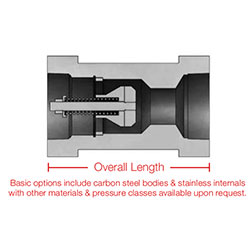 *Custom CVs upon request.
Valves are custom-engineered and the dimensions provided above are for reference only. Sizes displayed are in inches.