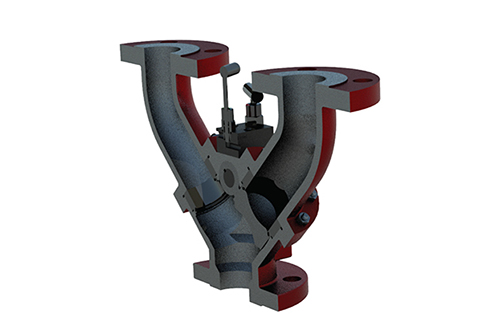 The Total Valve Systems 8800 Series Changeover Valve is designed to incorporate two safety relief valves installed on a single vessel system to protect in an overpressure emergency. Only one safety relief valve is in operation at a time while the other is installed as an interactive backup. If a problem occurs, such as a leak, simply switch to the other safety relief valve and remove the faulty valve to make repairs. The 8800 Series ensures one safety relief valve is in operation at all times which yields minimal interruptions to process operations during an unplanned outage.
Features
Optimized flow coefficient (Cv) to ensure less than 3% pressure drop per API RP520 Part II.
Designed for gas/vapor, liquid, mixed phase and steam service including ASME BPVC Section I boiler applications.
Low profile design for easy installation in tight areas.
Designed to API 622 and API 624 standards for low fugitive emissions.
Pressure bleed valves installed at both outlets to bleed away process fluid as well as in-line testing capability.
Engineered, manufactured and tested in Broken Arrow, Oklahoma, USA.
Technical
Sizes: NPS 1/2"-10"
Service media: Gas, Vapor, Liquid, Steam, Mixed Phase
End connections: RF, RTJ, BWE, SWE, MNPT, FNPT
Pressure class: ANSI 150-2500
Temperature: -250 F to 1200 F
Actuation: Materials: Handwheel, Pneumatic, Electric, Hydraulic
Materials: A216 WCB, A351 CF8M, A352 LCC, Monel, Hastelloy C
Soft goods: Buna, EPDM, Neoprene, FKM, Silicon, PTFE, FFKM
Approvals: API RP520 Part 11, ASME BPVC Section VIII, ASME BPVC Section I Code Case 2254, ASME B16.34, API 598, API 622, API 624